Tag A Tiny
TAG A TINY PROGRAM
Get involved! Help the Large Pelagics Research Center improve scientific understanding of large pelagic species by supporting and participating in co-operative research projects.
The LPRC initiated its Tag A Tiny program in 2006 to study the annual migration paths and habitat use of juvenile Atlantic bluefin tuna. Through this co-operative tagging program, which uses tags from The Billfish Foundation (Ft. Lauderdale, FL) recreational anglers and charter captains catch, measure and release juvenile bluefin with conventional "spaghetti"-ID tags. To date, 1258 recreational fishermen have helped LPRC to tag 1,645 bluefin, mostly juveniles from 1-4 years old, and some "medium" size fish, nearing 70 inches. All of the records are entered into the Billfish Foundation, NMFS, and ICCAT databases.
If you are a recreational fisherman, please consider joining our tagging efforts. Click on the volunteer form link and fill out the form. We will contact you with more information about the program.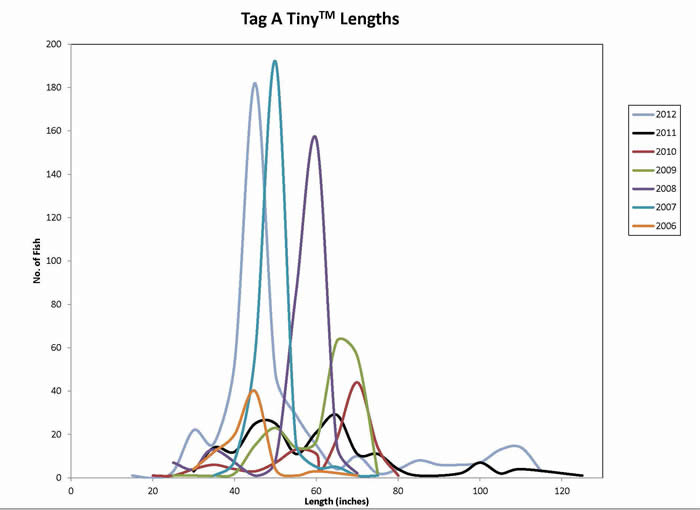 Click on the tags on the map below to see the number of fish tagged in each general area by Tag A Tiny participants.
Visit our Facebook Page to see the tags that have been recaptured.
Tag A Tiny Conventional Tag Releases by Area
We would like to congratulate the top taggers of 2012 in our Tag A Tiny Program!
2012 Top 3 Charter/Commercial Tagging Boats
1. Tammy Rose
2. Fin Seeker
3. Low Bid
2012 Top 3 Recreational Tagging Boats
1. RipDog
2. Fishtale
3. Bearboat & Rowdy Dow
2006-2012 Cumulative Top 3 Charter/Commerical Tagging Boats
1. Tammy Rose
2. Tuna Hunter
3. Fin Seeker
2006-2012 Cumulative Top 3 Recreational Tagging Boats
1. RipDog
2. Connie May
3. Rover & Corner Office
2012 Top 3 Charter/Commercial Tagging Captains
1. Eric Stewart
2. Joel Jacquard
3. Bob Matthews
2012 Top 3 Recreational Tagging Captains
1. Scott Clay
2. Bill Center
3. Rob Greig

2006-2012 Cumulative Top 3 Charter/Commercial Tagging Captains
1. Eric Stewart
2. Gary Cannell
3. Joel Jacquard
2006-2012 Cumulative Top 3 Recreational Tagging Captains
1. Scott Clay
2/3. Matt Zajac & Rich Betts
2012 Top 3 Charter/Commercial Tagging Anglers
1. Cliff Hampton
2. Bill Horn
3. Andy Buckingham
2012 Top 3 Recreational Tagging Anglers
1/2. Bob Pinkham & Mark McKean
3. Nicholas Glass, Keith Renfroe, & Chris McManus
2006-2012 Cumulative Top 3 Charter/Commercial Tagging Anglers
1. Cliff Hampton
2. George Harms
3. Corey Stewart
2006-2012 Cumulative Top 3 Recreational Tagging Anglers
1. Matt Zajac
2. Don Nadeau
3. Brian Droney